Welcome to JACO website
Duties and Roles of Orthoptists in Japan
National certification for orthoptists began in 1971 in Japan. At present, there are 16,171 such certified orthoptists in Japan (as of December 31, 2019), Japan has most numbers of orthoptists in the world. In Japan orthoptists work at the ophthalmology departments of medical facilities. Orthoptist are not only specialists for orthoptic but also specialists in a wide range of fields related to ophthalmology including checkups, testing, and low vision care.
Training for Orthoptists in Japan
In Japan, orthoptists are required to study the necessary subjects at university or training college after graduating from high school and then pass the national examination. Currently, there are 10 universities, one junior college and 18 training colleges. Orthoptists play many roles in the field of ophthalmology, with approximately 800 individuals passing the national exam for orthoptists each year.
The Four Duties of Orthoptists in Japan
The duties of orthoptists in Japan include orthoptics as well as a wide range of tests related to ophthalmology, including visual field testing and image testing, eye-related checkups, and low vision care.
1. Orthoptics
There is a critical period for visual development. Orthoptists support and treat problem of visual development for early childhood. Orthoptists test the visual function of young children, who may find it difficult to answer questions accurately, and implement orthoptic treatment to improve the visual acuity of individuals with amblyopia or strabismus to achieve normal visual function in binocular function.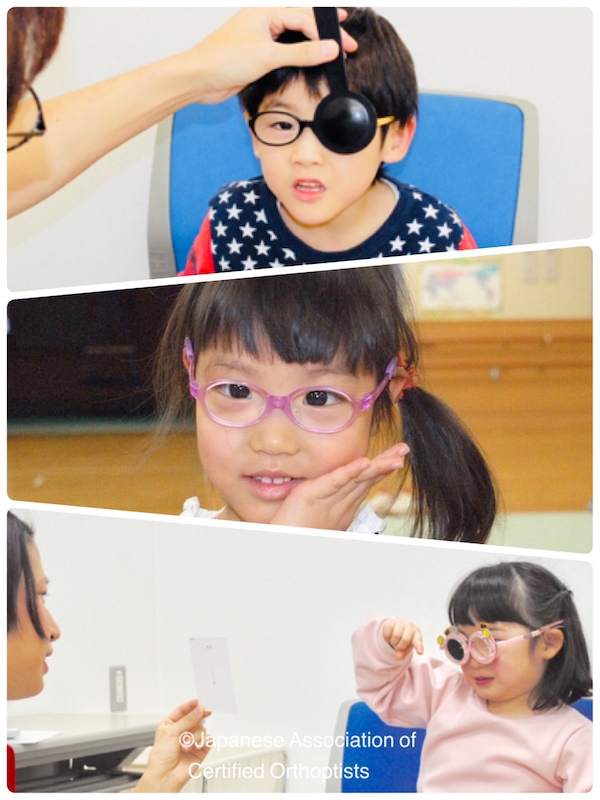 2. Visual Function Testing
As the human eye is a highly complex and important organ, many related tests are available. Orthoptists perform various general ophthalmological tests and detailed, specialized tests, including visual acuity testing, refractometry, prescription glasses and contact lenses, visual field testing ,and preoperative testing to ensure that surgery is performed accurately. Orthoptists provide accurate data that are required for diagnosis and treatment by a physician to support ophthalmological care.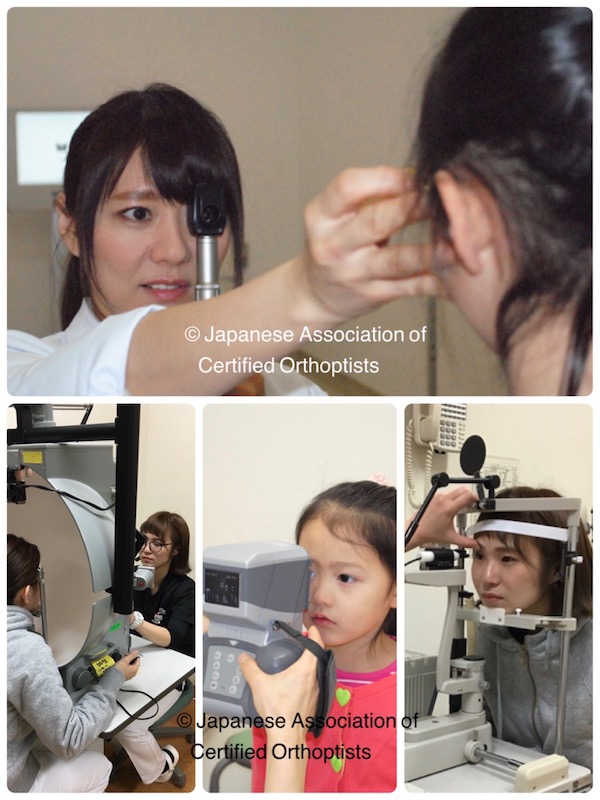 3. Health Checkups
Orthoptists also participate in the visual tests during 3-year-old health checkups held at Maternal and Child Health Centers and lifestyle disease health checkups for adults to contribute to the early detection of eye diseases. → Orthoptists also participate in public health checkups as vision specialists for infant and adults, Especially the 3-years-old health checkups is government program and important for child eye health and visual development. In this program orthoptists play important role as vision specialists.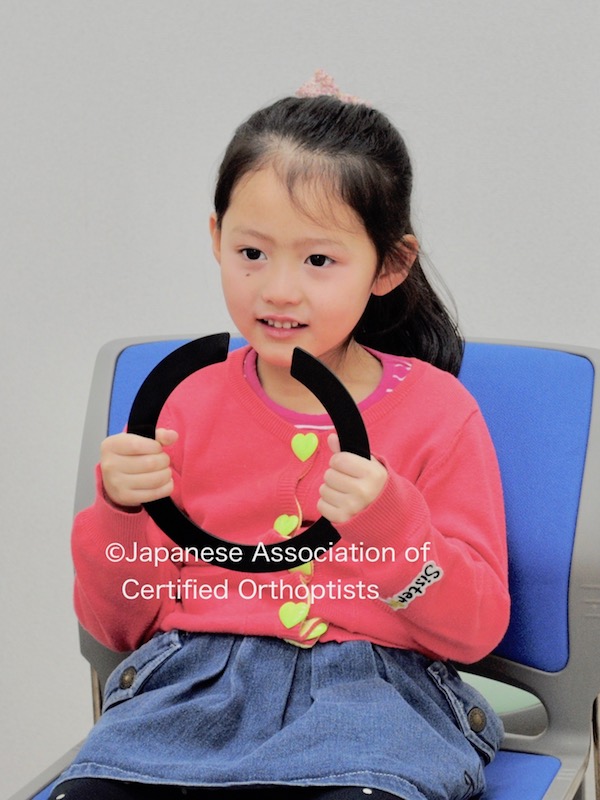 4. Low Vision Care
Orthoptists use different methods to compensate for cases with low vision in which ocular diseases or injuries, among others, decrease visual function and to improve the quality of life. In addition to visual function testing, orthoptists interview patients about how low vision have affected both the quality and continuity of their daily lifestyle, schooling or work, select individually tailored optical aids (e.g., magnifier, absorptive lenses, etc.), and advise individuals on making various adjustments to compensate for low vision and on cooperating with visual rehabilitation facilities. Care is offered to patients of all ages, from young children to adults and elderly individuals.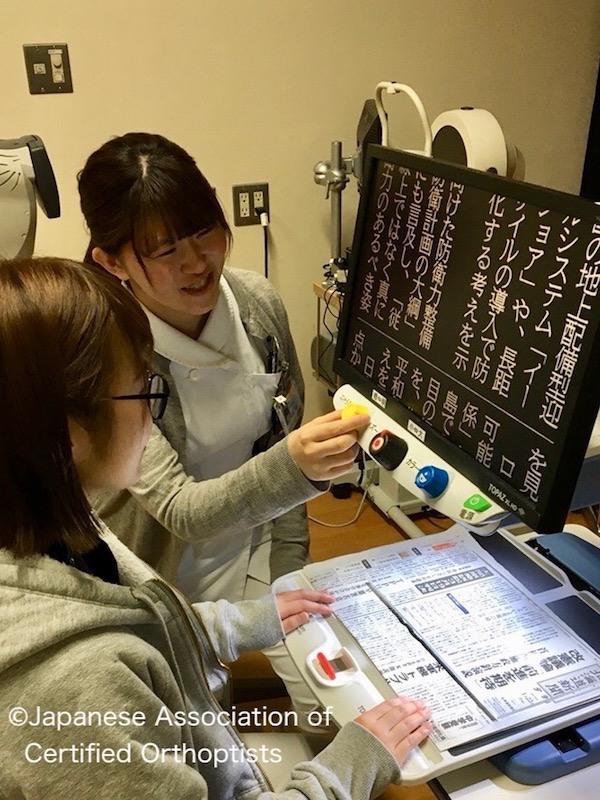 Japanese Association of Certified Orthoptists
The Japanese Association of Certified Orthoptists(JACO) was established in 1972 as a professional association (voluntary organization at this time) for orthoptists. Its activities have mainly focused on academic and educational operations to improve the capability of its members. In 1988, this organization was certified as an incorporated association to establish an organization that could be both be recognized by society and contribute to national healthcare strategies. Since then, it has proactively engaged in activities that primarily aim for the early detection and treatment of amblyopia and strabismus. JACO have achieved coverage of the provision of medical benefits for glasses in the treatment of amblyopia in infants and proactively carried out early detection and treatment, mainly in health checkups and visual examinations for 3-year-olds. The Orthoptists Act revision in 1993 expanded the work and responsibilities of orthoptists to all testing processes and assessments in the field of ophthalmology. Orthoptists now perform duties focusing on the four fields of care for visually impaired persons, namely (1) orthoptics, (2) visual function testing, (3) health checkups, and (4) low vision care. Moreover, since 2012, the association has become a Public Interest Incorporated Association as a result of its profound contribution in terms of maintaining and improving the ocular health while preventing visual impairments in Japanese people.
Japanese Association of Certified Orthoptists Operations and Organization
The Japanese Association of Certified Orthoptists (JACO) promotes and facilitates the acquisition of skills that can contribute to ophthalmology while also engaging in a wide range of activities including awareness-raising about eye health among the general population and international exchange activities.
| | |
| --- | --- |
| | Learning and Research (Academic Department) |
JACO offers opportunities for academic improvement and academic work for promoting the field of orthoptics to improve the efficiency and capacity of orthoptics.
Annual Meeting of the Japan Orthoptic Congress The Annual Meeting of the Japan Orthoptic Congress is held over two consecutive days each year in autumn with the participation of approximately 2000 orthoptists and physicians. In addition, over 100 general presentations are submitted, with sessions being actively conducted. The program includes special lectures, training lectures, symposia, and seminars.
Establishment of the Young Researcher's Award The Young Researcher's Award was established to cultivate young and talented orthoptists and to fund the research related to the visual function performed by them with the aim of improving the research quality. This award is presented at the Annual Meeting of the Japanese Orthoptic Congress. The award winner of the year is commended and gives a lecture at the annual meeting of the Japan orthopticcongress.
Lecture meetings and workshops Lecture meetings and workshops are held during each annual meeting. Lecture meetings focus on cutting-edge ophthalmology treatment and training, whereas workshops are planned and operated according to the themes identified in clinical care.
Arrangement of facility tours JACO coordinate study visit to other facilities for their improvement o skills. This study visit provides the opportunity to receive direct guidance from superior orthoptists in other facilities.
Editing of the Japanese Orthoptic Journal This journal is published in both print and electronic format. It contains reports presented at academic conferences, lecture meetings, and workshops that are held by the Japanese Association of Certified Orthoptists. In addition to these published reports, this journal publishes clinical reports and manuscripts in the field of visual function. Approximately 40 reports are submitted each year, and the abstracts of the reports published in this journal can be accessed at the following link. https://www.jstage.jst.go.jp/browse/jorthoptic/-char/ja
| | |
| --- | --- |
| | Continuing professional development program (Continuing professional development Department) |
JACO provides opportunities for Continuing professional development program to improve academic ability and skills following the acquisition of national certification. JACO offers programs that aim at training instructors and teachers in universities and training colleges.
Continuing professional development program Our Continuing professional development program is divided into three distinct educational levels—the entry-level training program, the basic training program, and the specialized training program.
Level 1 : Entry-level training program This program is offered to orthoptists within 5 years of obtaining their license. change to It includes lectures and technical training which provides the orthoptists the necessary skills to master accurate measurements
Level 2 : Basic training program This program is offered to orthoptists who have completed the entry-level training program or who have been licensed for at least 11 years. It consists of stages I through III and aims to provide orthoptists with highly specialized knowledge and skills. Orthoptists who have completed this program and have a certain level of clinical experience are referred to as a highly qualified orthiptist)by the association.
Level 3 : Specialized training program This program is offered to orthoptists who have completed the basic training program. It consists of stages I through III. After this program orthoptist choses a main specialty from Orthoptics, Low vision care, eye examination for ophthalmology, vision science of optics and glasses and trained as a top-grade orthoptist to be a leader, practitioner and educator in that specialty
| | |
| --- | --- |
| | Public Relations and Awareness-raising campaigns (Public Relations Department) |
Public relations engages in awareness-raising campaigns to inform and educate the general public on ocular health and medicine. This department provide leaflets and brochures for rasing public awareness of the importance of health checkups and visual examinations for 3-year-old and information about ocular diseases for adults. Public relations department also promotes a better understanding of orthoptists' duties and expertise to the general public by offering seminars and creating videos.
| | |
| --- | --- |
| | International Exchange (International Relations Department) |
International Relations department offers consultations and advice on accepting trainees from overseas organizations related to health checkups, orthoptics, low vision care, and ophthalmological testing in which Japanese orthoptists are highly skilled. We coordinate with International Orthoptic Congress members.
Japanese Association of Certified Orthoptists Organizational Chart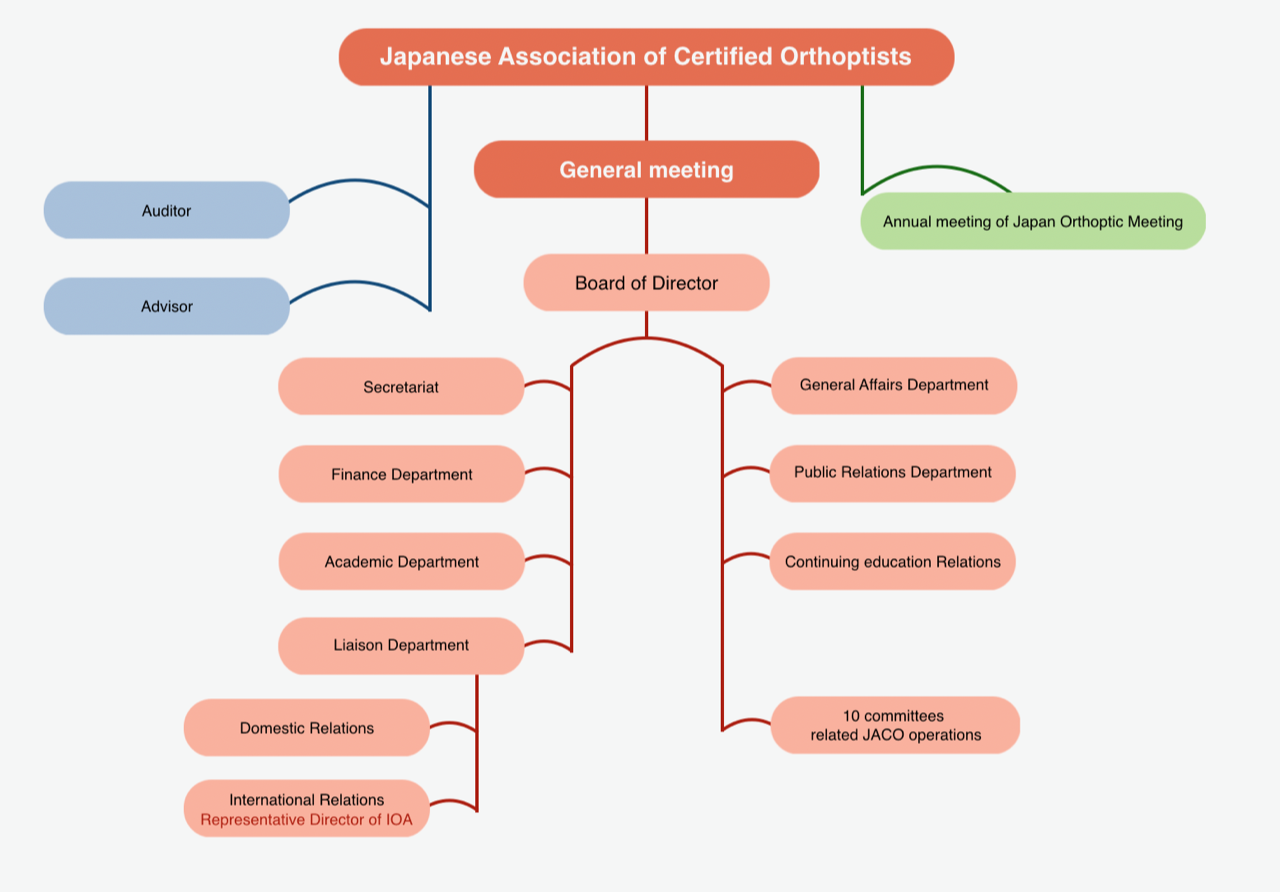 History of Japanese Association of Certified Orthoptists and Orthoptists in Japan
| | |
| --- | --- |
| 1955 | Two synoptophores were donated by Dr. J. R. Anderson, kick-starting the study of strabismus in Japan |
| 1969 | The first National Orthoptist Accreditation Examination was held, in which 85 individuals passed |
| 1970 | School of Orthoptics National Children's Hospital was opened (It was closed in 2001) |
| 1971 | The Orthoptists Act was established and the first National Orthoptist Examination was held |
| 1972 | Opening ceremony for the Japanese Association of Certified Orthoptists(JACO) and the first workshop were held in Okayama |
| 1978 | Third International Strabismological Association (ISA) meeting was held in Kyoto, with many orthoptists participating |
| 1981 | Joined the International Orthoptics Association (IOA) 10th anniversary ceremony was held for JACO (Tokyo) |
| 1987 | First Annual Meeting of the Japan Orthoptic Congress (Tokyo) |
| 1993 | The Orthoptists Act revised |
| 1995 | Eighth International Orthoptic Congress (IOA Congress) was held (Kyoto) Coordinated with the Japan International Medical Technology Foundation to start accepting orthoptics trainees from overseas |
| 1997 | Coordinated with the Foundation for Promotion of Medical Training to start offering lecture courses to train orthoptist facility instructors Joined the Japanese Medical Technician Liaison Council |
| 2001 | A system for certifying specialized orthoptist trainers was started |
| 2006 | Midori Kawamura, former chair of JACO conferred Order of the Rising Sun, Gold Rays with Rosette Start of a Continuing Education System for orthoptists |
| 2010 | Start of the Basic Training Program under the Lifelong Training System for orthoptists |
| 2013 | Sakuko Fukai former chair of JACO conferred Order of the Rising Sun, Gold and Silver Rays |
| 2014 | Received letter of appreciation from the Minister of Health, Labour and Welfare of Japan for supporting activities following the Great East Japan Earthquake |